Where The Sky Is High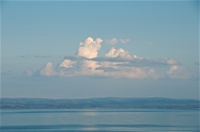 When you come from the south, passing Smørfjord, the landscape becomes more open, the sky is high and The Porsanger Fjord shows itself great and majestic in front of you. There are 20 km across the fjord to the other side seen in the distance.
Often, the sky is clear with sun. There is less rainfall in this area than further west. The mountains on the west side of the bay prevents gray weather coming in from the west. This photo shows a great summer day with perfect weather.
...but some days are rainy or grey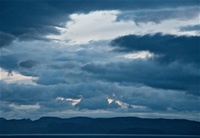 We are in Finnmark on the way to the North Cape. The weather can change. Even if it is windy, raining or gray, you get the sense that at Seljenes you can breathe. Here is the air like that of the open ocean, or a mountain top. But you are on E69, not far from the North Cape or Nordkapp as the locals say.
Rent a cabin? Samuels Cottage at Seljenes is amazing.
"Where is Seljenes?" you might ask. Seljenes is about 100 km from Hammerfest, 100 km from Honningsvåg, 100 km from Havøysund, nearly 100 km from Lakselv and slightly more than 100 km from Alta. It is very centrally located in Western Finnmark.
See also this map.
You can find many photos of Seljenes on Flickr.
or in this book Seljenes - The Silent Beauty or Naboer på Seljenes
Kommentarer
15.08.2010 21:45
Dietmar Scheib
Hei Ingar og Britt,
den var fantastike ferie i seljenes. Vi kommer neste ar igien. Hilsen fra tyskland Dietmar, Petra og Lisa
18.04.2010 18:20
Olga Thomassen
Hei Ingar og Britt.
Tusen hjertelig takk for at vi fikk bo på hytta deres.
Og en stor takk for at dere tok så goHytta er helt toppers.
Klem fra Helge, Olga,Nang
15.03.2010 10:14
Tore Jørgensen
Hær så det jo riktig så bra ut Ingar:) Vi kommer nok til å ta kontakt får å leie:)
14.03.2010 16:26
sten ove halvorsen
har du en lang tids leie av hytta e veldeig intersert i det
26.02.2010 16:18
May Trude
Hei på dere

Så flott side og fantastiske bilder av Seljenes! Regner med at dere koser dere hver helg der ute. Hilsen May Trude.
12.02.2010 08:56
Svanhild Samuelsen
Det var veldig artig å se bildene fra Seljenes. Som datter av Samuel har vi tilbragt mange fine dager med hytta som base for fisketurer og bærturer.
12.02.2010 14:10
Ingar Kristoffersen
Takk for hyggelig hilsen. Jeg håper og tror mange skal få mange fine dager på hytta. Hytta vil oppleves som et pluss, og vil være en super base for turer.
10.02.2010 17:37
astrid
Det ser fantastisk ut, Ingar! Skal jeg sende det videre til kollegaene mine?
10.02.2010 19:52
Beste hilsen Ingar
Hyggelig at du synes det. Jeg vil svært gjerne at du sender melding om siden til andre du kjenner. Kanskje det kommer en nederlandsk eller engelsk side snart